ONLINE MEMBER AREA FACILITY
Technologically advanced online facility for members to increase their productivity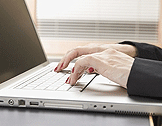 GESFWA is very pleased to announce the launch of personalized area for all the members. Henceforth, all the members will be provided this personalized member area upon their membership confirmation. This technologically advanced online facility will strengthen the network and will increase the overall productivity and efficiency of GESFWA.
This member area will allow GESFWA to easily manage all the communication with the members. All the notices, notifications and other important messages will be sent to members directly via this online area. Members will be able to see both old and new messages whenever they log into their personalized member area.
This online member area will also help in managing all the activities of the GESFWA. Different activities that need to be performed in different chapters will be available in respective member areas. Members can see all the activities and show their consent for performing different activities directly from their area. Members will also be able to view the history and status of activities and initiatives undertaken and completed by them, as well as those awaiting response.
This area will also allow all members to manage their complete profile very easily, they can view and update their profile any time, set their communication preferences, change password of their personalized area, refer their friends and colleagues to GESFWA and do much much more!
All the GESFWA's publications and other news & updates will also be available in the very same area to keep all members updated. Furthermore, members will also to able to contribute in different GESFWA publications using the same area.
With all these functionalities, GESFWA is certain that the Members Area will help improve the overall productivity of GESFWA's network. To view this personalized members area please click here.
If you are still not member of GESFWA's expanding network, click here to join now and get access to this personalized member area.